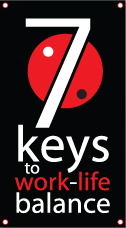 Rumblings of dissatisfaction among your high-potential talent.
Attrition and employee burnout on the rise.
Disappointing results from your employee-satisfaction and engagement surveys.
A new generation of leaders who expect a satisfying work experience and a full personal life.
Is your organization facing these challenges?
The issue of work-life balance* is becoming more important to employees at all levels. And, it will continue as diversity (age, cultural, ethnic and more) in the workplace increases and as technology and social media keeps us more connected.